And so it begins ...

Former Congressman Lincoln Davis Turned Away from Voting
Humphrey on the Hill, knoxnews.com -- March 6, 2012
Former Congressman Lincoln Davis says he was denied the right to vote Tuesday in his native Fentress County, where he has been casting ballots since 1964.

"If I had moved here from somewhere else recently, maybe I could understand it," said Democrat Davis. "But a former congressman, a former state senator and a civic leader... and nobody even notified me I'd been taken off the rolls?"
[...]
How many more seniors will be rudely awaken, like this former rep, to the fact that their most basic of citizen rights has been taken away?
Without so much as a notice letter?
Probably quite a LOT ...

Letters: Should seniors be prevented from voting?
Karen C. Buck, Esq., Executive Director, Senior Law Center
buckslocalnews.com -- May 22, 2011
Ninety-two year-old Bea has voted in every presidential election for almost seven decades, since the time FDR was running for office, and is justifiably proud of her voting streak. But as a Pennsylvania senior, she may soon be prevented from voting at all. Not because of illness or lack of transportation or disability or forgetfulness. She may be deemed unqualified to vote in Pennsylvania – simply because she does not have photo ID.
[...]

But research contradicts this claim. Seniors are disproportionately represented among the millions of Americans who do not have current government-issued photo IDs. As many as eighteen percent of American citizens age 65 and above -- more than 6 million seniors -- do not have current government-issued photo ID. This may include more than 340,000 older Pennsylvanians – more than the total population of Pittsburgh.
[...]
This shame of
Senior Disenfranchisement
is sweeping the country, all thanks to your local GOP-led state legislatures. (and their sponsors.)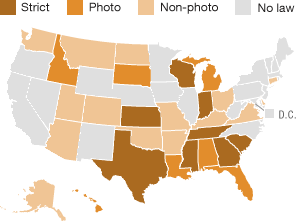 Why New Photo ID Laws Mean Some Won't Vote
by Corey Dade, NPR.org -- Jan 28, 2012

Six million senior citizens, citizens eager to protect Social Security and Medicare, are about to discover they no longer have a say ... in how their government works.
Step aside seniors. The GOP has spoken.




Who can we thank for this scourge of rights revocation sweeping the county?
The clues to the caper are becoming quite clear ...

Nonprofit ALEC Seen as Force behind Voter ID Push
Minnesota Public Radio -- March 4, 2012

There is a movement underfoot in state legislatures nationwide to craft laws requiring presentation of photo IDs at the polls, and the nonprofit policy group firmly behind the trend is the American Legislative Exchange Council (ALEC). In 2011, six states, including Texas and Wisconsin, enacted stringent voter ID laws. Most legislators responsible for passing these bills confirm or report ties to ALEC, and similar measures are in the hopper in 31 additional state halls, at various stages of the legislative process. Minnesota's legislature has now resorted to proposing a constitutional amendment after Democratic Gov. Mark Dayton vetoed its version of the law last year.

ALEC generates model bills on hundreds of issues. Operating largely under the radar of public scrutiny, ALEC's civic methodology is a popular tool for right-leaning lawmakers, of whom 2,000 are ALEC members, as are 300 corporate and private participants who pay upwards of $25,000 to join, and additional sums to sit on individual task forces responsible for drafting model laws of interest to them. ALEC's generic voter ID measure was hammered out in 2009, and the legislative push to codify the requirement gained traction in 2010 when Republicans achieved majority representation in numerous state houses.
[...]
What can we do to reverse this Conservative wave of Xerox-injustice?
Pay attention, pursue and promote more civil actions like this one:

ACLU wants in on S.C. voter ID lawsuit
by Meg Kinnard, Associated Press -- Feb 24, 2012
COLUMBIA — The American Civil Liberties Union on Friday asked a federal judge for permission to get involved in a lawsuit over South Carolina's new voter ID law, saying it represents three voters who have been unable to get the photo identification required by the law in order to vote.

The state is suing to overturn the U.S. Justice Department's rejection of the law in December. The agency said tens of thousands of the state's minorities might not be able to cast ballots under the new law because they don't have the right photo ID. It was the first such law to be refused by the federal agency in nearly 20 years.
[...]
The threat and the stakes are very real ...

partial transcript:
Mary Lou Hill is 94 years old.

She was born before women got the right to vote and she's been voting since she was 21.

She's convinced that thousands of seniors like herself will be disenfranchised if Minnesota requires a state issued ID to vote.

Mary Lou says "While it is easy for many legislators who voted in favor of photo ID to run down to the government center to update their drivers license or get a Minnesota ID, senior citizens may have a number of problems with this simple activity.

One, they may not drive or have anyone to take them.

Two, they may not be able to walk without pain or at all.

Three, if they are comparatively new to the state they may have difficulty proving who they are. This is especially true for elderly women who probably changed their name once or twice since they were born.

Gathering the documents of a lifetime to prove you are the person who has been voting decades is difficult and may be expensive if duplicate documents are required.

You've all heard the statistics -- 18 percent of people over the age of 65 do not have a current government issued photo ID. That percentage does escalate rapidly as the age increases.

How many 94-year-old women do you know, do you suppose, have a current photo ID?

I do not have an ID that meets the requirements of these bills. These bills would take the vote away from thousands of elderly citizens.

Citizens who have been proudly casting their ballots for 50 or 60 or 70 years.

I join with others urging the legislature to reject these bills and if that fails, in urging Governor Dayton to veto any photo ID that gets to his desk.
Mary Lou Hill is 94 years old. She is no longer "qualified to vote" --
after a Lifetime of Voting.
-- Thanks to the ALEC-GOP fear agenda.

The threat and the stakes are very real ... and frankly we are running out of time to stop this ALEC-inspired theft of our democracy.
There were already laws on the books to punish the exceedingly rare cases of Voter Fraud
-- We do not need this GOP-version of draconian Voter-restrictions, which are the equivalent of "throwing the baby out with the bathwater."

Talk about hating government, if this doesn't show their contempt for democracy, I don't know what does ...






canivote.org